Songkhla may be considered the capital city of the South, as significant as Chiang Mai is to the North and Nakhon Ratchasima to the Northeast.

But it has long been overshadowed by Hat Yai, a district in Songkhla province that is seen as thFor those who want to see the other side of Songkhla, though, there are many sites of natural, historical and cultural interest.

A good place to start is Ko Yo, an island in the inland sea known as the Great Songkhla Lake. Here there is a thriving cotton-weaving cottage industry, where visitors can observe local artisans and listen to the clacking sound of the hand-operated wooden looms.

At the northern end of the island at Ban Ao Sai is the Institute of Southern Thai Studies, a division of Sri Nakharinwirot University and one of the most interesting museums in the country.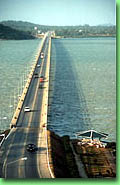 The folklore museum on Ko Yo, 10 kilometres from Songkhla, opened in 1991 and is the largest museum in the South.

The museum guide told us that the facility was considered an international-standard museum with the finest collection of ancient artifacts from all over southern Thailand.

Built in a complex of Thai-style pavilion houses, it has a collection of southern Thai arts exhibits grouped into a Shadow Play Garden, Ancient Beads Garden, Traditional Medicine Garden and Bamboo Culture Garden. Various household, agricultural and fishing implements are also on display.
One especially appealing collection features coconut-grater seats carved into various animal and human shapes that show off local wisdom and humour. If you look out from the window of the museum, you can see the fishing villages that form an exotic backdrop along the lake.

The Great Songkhla Lake is the country's largest freshwater lake, extending some 80 kilometres north from an estuary that flows into the Gulf of Thailand. Boat tours of fish farms, operated by the Fishery Department, allow visitors to see how the fishermen earn their living.
And as long as you're in Ko Yo, be sure not to miss the fresh seafood offered by several large restaurants overlooking the lake.

Another attraction not yet widely known among local visitors, but drawing curious foreign tourists, is the Piyamitr tunnel.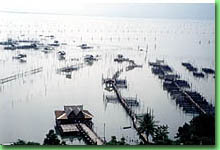 Many people are aware of the network of tunnels in Vietnam, excavated by Viet Cong fighters during the war 30 years ago. Far fewer are aware that a similar attraction exists in Thailand-even the Lonely Planet guidebook doesn't mention it.

Hidden in the jungle in Khao Nam Khang national park in Na Thawi for decades, the tunnel was opened for tourism just a few years ago.

The site is a popular attraction for Malaysian tourists, because it has a significant connection to the history of their country.

The Piyamitr tunnel was once a shelter for Chinese Malaysian Communists who had first migrated to southern Thailand during the Second World War.

"We have lived here for 40 years now," said our guide, Loo Fooi Ying, a cheerful, strong 74-year-old woman.

"At that time, we were with the Malaysian Communist Party," she explained in Thai with a strong Chinese accent.

"I was with the eighth army group that headed to the forest. We had a strong will to fight for our country.
"In our case, we all were university students, sent up here to seek the independence of what was still a British colony. The first 10 years were periods of torture and hardship.

"Still, the British army could not liquidate us although four leaders took turns trying.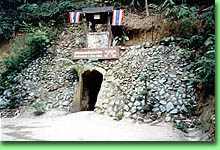 "We were attacked continuously, especially when the Malay government joined forces with the British army, so finally we had to sneak into Thailand and began digging this tunnel."

The excavations took two years to complete amid fierce attacks. "But we were safe in this tunnel," Mrs Ying said.

The entrance of the tunnel was renovated when the idea of making it a tourist attraction took hold. Stepping inside, we could feel the coolness as we ascended 54 steep stairs.

The tunnel itself is a marvel of human achievement and endurance. Some parts are so rocky that it's hard to imagine the effort needed to dig by hand, using only simple tools.

The 1,000-metre-long tunnel was divided into several sections. There are bedrooms, a kitchen area, meeting room, emergency room, communication room and shooting range. There was even a motorcycle training area.

In total, the tunnel complex contained more than 100 rooms, and more than 200 people lived in it at any one time.

Outside the tunnel, there is a basketball court, kitchen, wedding room and residence for comrades. In the main meeting hall there were pictures of Stalin, Karl Marx, Lenin and Mao.
Originally, the tunnel had three entrances. Later, it was extended to 16 entrances with three floors, linked to each other by stairs.

It is said that this is the most perfect and longest tunnel of its kind in Thailand. What really makes a visit memorable, though, is the first-hand accounts of the guides who endured such privations fighting for their beliefs.

So you don't have to go to Vietnam just to see such an attraction. The local guides are aware of the site's strong appeal to Malaysian visitors, and a bit surprised that so few Thai people acknowledge its existence.

Once you've seen the high points of Songkhla, a side-trip across the Malaysian border to Penang is also worthwhile. The crossing at Dan Sadao is just 60 kilometres from Hat Yai.
Penang today is a modern commercial and industrial centre, but it retains considerable charm in areas where its colonial architecture has been preserved.

The highway in Malaysia is smooth with shady trees making for pleasant scenery along the way. It takes about three hours to reach Penang, so an overnight stay is a good idea, unless one departs Hat Yai very early in the morning to make a long day trip.



Hat Yai aims to broaden its appeal as family destination



Tourism in Hat Yai has changed a lot over the past three decades, though not always for the better.

Thai people know Hat Yai as the best place in the South to shop, while many Malaysian and Singaporean tourists come to Hat Yai for its nightlife.

The southern attractions that now draw many Thai tourists include Pattani, where people go to pay respect to the famous Lim Ko Niew goddess. Some also cross the Malaysian border to visit Penang, but most return to Hat Yai at night due to its wide selection of accommodation.

Travel industry people believe Hat Yai has succeeded in changing its image away from a place only for single men. They say more family groups are arriving.
Travel Feature: Fish, folklore and tunnels in Songkhla
Reviewed by
Sassy Ja
on
11:10 PM
Rating: